Upcoming events + a new series of personal wisdom from money pros.
First Event
Tax Day Intention Circle: Tuesday April 15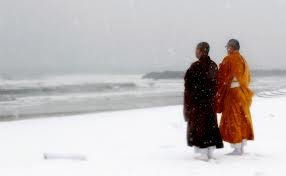 (Unable to find who gets photo credit. So, thank you, Anonymous.)
I'm holding an online space at noon Pacific time on tax day, April 15, 2014. Half an hour. 15 minutes of whatever type of intentional silence you choose from where you are, and then 15 minutes of spoken or written intentions, hopes, fears, requests, goals around money in general. For you, your family, your city, your country, etc. etc. Up to you. It's my offering to a day (April 15th) and process (US taxation) that is both fascinating and fraught with darkness.
If you will join the circle, RSVP by email to beth@lovethezeros.com and I will give you further information for how to join us that day. You are welcome to invite others with whom this will resonate.
Second Event
Shredarama in SF: Friday April 18th
It is wonderful for the energy of your home and financial peace of mind to clear out any paper clutter. When your documents contain sensitive info, of course you want them destroyed. Go to any branch of SF Fire Credit Union on the 18th, and they will have a big shredding truck there to whisk away your untossables. Don't forget, you only need to keep the last 7 years' worth of tax data (if you don't have it electronically already). http://www.sffirecu.org/2014/2/28/shred-day-sensitive-document-destruction-apr-18th
Edition #1
A Money Professional Shares About Their Money
I'm grateful for connections with smart, well-meaning money professionals who conduct their services with full integrity.
I've asked a select group of them to share with us some answers to basic questions around how they "do" money. I hope you enjoy reading what it's like for those of us who deal with it often (and still get humbled on a regular basis!). You'll be getting one Money Pro's set of answers at a time.
Answers By Carrie Birgbauer
Q1 How do you earn money, if you were to explain it to an 11 year-old?
I teach people how to organize and care for their money.
Q2 What resources inspire you around how to handle your personal finances?
Money Minder Online, Checkbook app by Jeremy Jacob, working with Mikelann Valterra and Barbara Stanny as my money/business coaches, GoGirl Finance blog, MoneyZen blog, Betterment blog, and simply written news about personal finances in the NYTimes, HuffPost, Yahoo Finance, etc.
Q3 What advice, if any, do you have for people who owe high amounts of money relative to their income?
The best and quickest way out of debt is through saving. Start a periodic savings account right away for anticipated non-monthly expenses. When vacations, car repairs, insurance, vet bills and other irregular expenses come up, simply transfer the money in to your checking account and pay with your debit card. Otherwise, periodics tend to throw people off balance and often end up on the credit card. Create a chart with the months on the top and your periodics on the left – map our your approximate spending on these items for an entire year. All them all up and get a grand total – divide that number by 12 and that is the amount you "should" be putting aside into your periodic savings account each month.
Q4 What is currently your biggest personal challenge in your financial life?
My biggest challenge is balancing joint finances with my husband including his fixed income on an every other week pay schedule (not ideal) and my fluctuating income – each month is truly the art of personal finance.
Q5 What is one thing you have learned and/or practiced in the past year about dealing with money, that has made your life easier and/or better?
For many years now, I have been tracking everything that happens to my money – income, expenses, automatic payments, transfers, quarterly tax payments, checks, absolutely everything. The more often I tune in (daily is the goal but at least several times a week) the easier it is. I feel more in control, happier and experience more peace of mind the more often I tend to my garden of money.
Q6 Tell us about your business and/or share your website, if you'd like to.
nymoneycoach.com – Money coaching is a customized blend of financial planning and financial therapy. Carrie guides men and women on a path to financial freedom through a holistic coaching process. She helps professionals, families and small business owners take control of their finances and find lasting emotional and financial security. With Carrie's mindful counseling, clients take a rigorous look at their income and expenses to create a flexible framework (a.k.a. monthly and annual budgets) for making smart and guilt-free financial decisions on a consistent basis. When relevant, clients address family history and imbalances such as debt, emotional spending, and underearning. The money coaching process with Carrie is transformative, inspirational and practical – it's about aligning your spending, saving, and earning with your values.
_______________________________________
Thanks, Carrie, for this valuable information and set of insights!